Featured Image: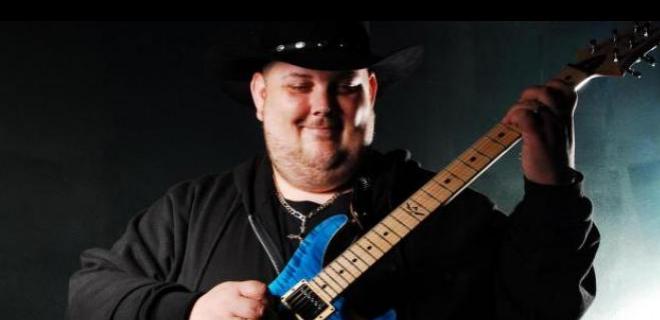 All Fired Up, the NEW CD from country rock artist Johnny Hiland, is a seasoned blend of showboatin' country music with a rock and roll edge...


JOHNNY HILAND "ALL FIRED UP" 


Ricky Scaggs commented on Johnny, "I think Johnny Hiland is the most versatile guitar player I've ever heard. From Bill Monroe to Eddie Van Halen, he can play it all." 

The Album 

Hiland's new record "All Fired Up", is a virtuoso chicken pickin' CD which is rooted firmly in country music with a rock and roll edge, aided and abetted by for Joe Satriani and Steve Vai bassist Stuart Hamm, Steve Vai/Billy Idol drummer Jeremy Colson on the drums and keyboard virtuoso Jesse Bradman. An instrumental CD brimming with high tech chicken pickin', faux pedal steel chops laced with some incendiary rock and roll, "All Fired Up", also boasts two vocal oriented bonus tracks which incorporate Hiland's seasoned country voice and his showboatin' country chops.


Background


Johnny Hiland grew up in the small town of Baileyville, Maine. He was born legally blind with an eye disease known as nystagmus, which did not allow him to grow up like most children. He started playing guitar at age 2, and went on to perform his first TV show at age 7. His career took off when Johnny won the "Talent America Contest," at age 10, in New York City. His father had taken him to see Ricky Skaggs perform, and Johnny immediately went from pickin' bluegrass to wanting a telecaster. As a teen, Johnny spent countless hours learning and developing his own blend of chicken picking,' rock, blues, and swing; while pickin' in a number of different bands around the state of Maine.. After finishing high school, and 3 years of college, he moved to Nashville in 1996. Since then, he has performed as a headline artist at the legendary Grand Ole Opry and has played on a number of records for artists like Toby Keith, Trick Pony, Randy Travis, Ricky Skaggs, Janie Fricke, Lynn Anderson, and Hank 3 among many others. He later signed a record deal with Steve Vai and released a critically acclaimed guitar record on Vai's Favored Nations label. He then later released a second album on his own called "Loud and Proud", released in 2007. Since then he has been touring the globe with his band, "The Johnny Hiland Band". He has also performed on stage with super artists like Sammy Hagar, Ted Nugent, George Clinton and P-Funk, Les Paul, Steve Vai, Joe Bonamassa, G3, and many others. He loves to teach, and has his own line of guitar instructional material as well; 2 Hot Licks videos, and a number of books/cds with Mel Bay. He has had his own signature model PRS, and now has found his proper guitar home with Ernie Ball Music Man.
"ALL FIRED UP" The Compositions
Barnyard Breakdown
All Fired Up
Bakersfield Bound
Forever Love
Minor Adjustment
Six String Swing
Gone But Not Forgotten
The Gloves Are Off
Double Stoppin'
Bluesberry Jam (Bonus Track)

Breaker, Breaker, 1-9 (Bonus Track)
Party Time

Points Of Interest


The Shrapnel Label Group has developed a strong following for its superior guitar recordings. Chris Duarte takes his place among artists in the label's legacy that includes such blues/rock legends as Rick Derringer, Pat Travers, Eric Gales, Michael Schenker and Leslie West, among many others. 
• Hiland's masterful guitar and vocal performances on "All Fired Up" portend a great response from these loyal music lovers, as guitarists of this quality and intensity are few and far between. 
• The Johnny Hiland Band is a live touring act, playing as many dates not only in the USA but also in select foreign markets which has helped him amass a legion of loyal fans. 
• Guitar Player Magazine has revered Hiland, and its many of its readers consider Johnny to be one of the greatest guitarists in the industry. Guitar Player Magazine sent one of their editors to the studio to catch the recording on film as it was going down and also to interview Johnny, some of which has already been posted on their website and is helping to prime the fans for this incredible CD's release. 
• Fans of guitar-oriented music have followed Johnny Hiland for over a decade and the internet is already buzzing with anticipation for this phenomenal record. 
• As a guitarist, Hiland has been favorably compared to some of the greatest players of all time in his genre. This record, while featuring some of his most impressive and extended guitar work to date, also reveals him to be a strong singer/songwriter in the country rock genre.
MARKETING AND PROMOTION 
• Consumer ads to be sought in popular music magazines. 
• Visibility on major Internet music sites for Blues, Jam bands and classic rock and progressive country. 
• Print advertising sought with major retailers and one-stops. 
• Price/positioning and listening stations programs to be sought with key retail accounts. 
• CD servicing to a selective group of musician-oriented, jam band, progressive country radio shows as well as college radio stations. For more retail information on this or any other Shrapnel Label Group releases, please contact your eOne sales rep. 

Please call: The Shrapnel Label Group' Tim Olayos at 415-898-5046 for your promo servicing needs. 
Email: Shrapto@aol.com 

BBI-2075- $17.98 
File under Johnny Hiland 
File under Country, Rock, Country/Rock