George Lynch Souls of We
Artist Name
George Lynch Souls of We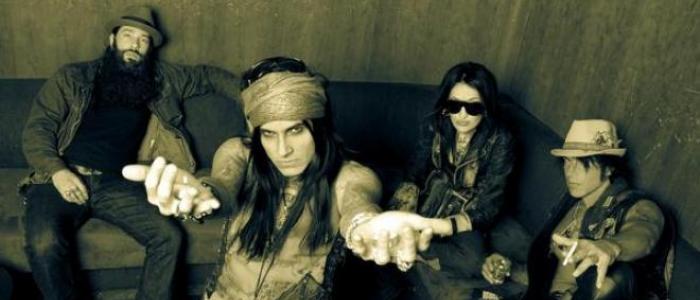 Body
Guitarist George Lynch
 was one of the top guitarists in
 the 80's and appeared on the cover
 of nearly every guitar oriented magazine
 in the world. As a member of Dokken he
 churned out a series of multi-platinum albums,
each one with more impressive guitar work on it than the
 next. As a touring member of Dokken, he saw the world
 and introduced fans across the globe to his phenomenal,
stylistic approach to the guitar. In the 90's George had
 another round of success with his own group the Lynch Mob 
on Elektra records and again supported his releases with a heavy touring schedule.
Several years ago, Lynch recorded his first record for Shrapnel entitled "Furious George" which is a guitar extravaganza built
 on heavy tunes written in the 70's, which record remains one of the label's best sellers of the millennium.
The last few years have brought about some positive changes to George and his career. The first of which is his reformation of The Lynch Mob with original singer Oni Logan which has been touring to rave reviews in 2008 and the second of which is George's formation of his metal super group "George Lynch's Souls Of We".
Souls Of We signifies a new beginning for world renowned guitarist George Lynch (Dokken, Lynch Mob) and legendary Hollywood frontman London LeGrand (Brides Of Destruction). Lynch and LeGrand came together by a chance meeting on Melrose. Their rapport was instant and Lynch gave LeGrand some tunes to see what kind of lyrical and vocal ideas he would create. The chemistry between Lynch and LeGrand was instant and undeniable. "London is a unique visionary and poet" states Lynch. "His words are powerful and descriptive. I feel like I have finally found my musical soulmate."
Rounding out the line-up is powerhouse drummer Yael (Tom Morello, Alex Skolnick) and bassist Johny Chow ( Cavalera Conspiracy, Systematic, Fireball Ministry, ). "Souls Of We" is a dream band where I got to pick and chose players not because one is more famous than the other, but because I really respect and want to play with these people" states Lynch. George Lynch's Souls Of We is a modern rock band with strong songs fronted by the consummate frontman and one of the best guitarists in the world. This quartet will really start turning heads once they hit the road and fans see the Lynch/LeGrand team in action.